Laying Hens for Sale! Pasture Raised, Heritage Breeds - Allanridge
Sunday, 27 December 2020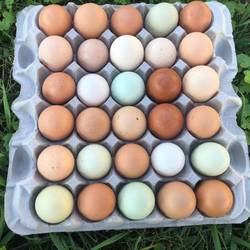 Item details
City:
Allanridge, Free State
Contacts

Nora
Item description
We have a total of ~300 chickens. You can purchase any quantity, from 1-all of them. They are friendly layers that lay a variety of eggs (dark brown, light brown, green, blue, white)!

Breeds:
Black Australorps
Barred Rocks
Rhode Island Reds
Golden Comets
Buff Oringtons
White Leghorns
Gold Laced Wyandottes
Easter Eggers

They have been pasture-raised using mobile chicken coops on our pesticide and herbicide-free farm. They are ~2 years old. The reason why we are selling the birds is we purchased 2 new coops that each can hold 650 birds. We want to cycle out our old flock so we can get 2 new groups of 650 to get our coops to max capacity.